One designer whose work has recently struck me is Guillermo Del Toro. Del Toro is a Mexican filmmaker whose work is heavily inspired and influenced by a "dark fairytale" aesthetic. While he may not immediately jump to mind when thinking of influential or inspirational designers, I think that he more than meets the mark. Beginning with a short biography, del Toro was born and raised in Guadalajara, Mexico, in 1964. He has a rather large filmography and has expanded into writing novels as well. A very influential part of del Toro's work was witnessing the plight of Frankenstein's monster in the eponymous 1931 movie, in which del Toro saw the monster as "a statue of a martyr." What really drew me to del Toro were his creature designs and the worlds that he builds around them. While these designs can be seen in many of his works, they can perhaps most famously be seen in the film Pan's Labyrinth.  This film, which centers around a young girl named Ophelia following the Spanish Civil War, features the Pale Man and the Faun as prominent examples of del Toro's creature design. The design for both is fantastical and unnerving at times, but may not be as straight forward as they may look and often have ties to deeper meanings.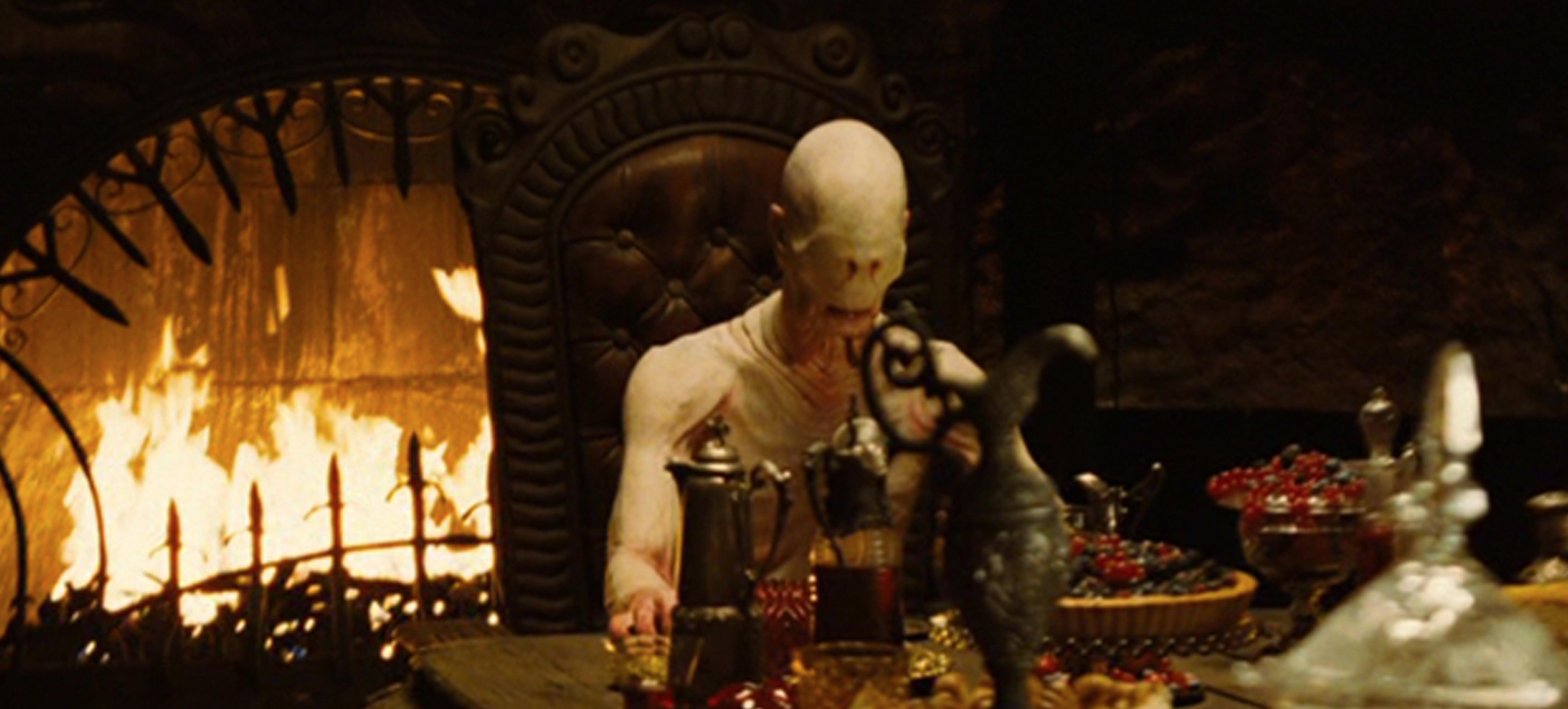 Several of the key aspects of Guillermo del Toro's designs are that they change and they are not only supported by the environment they are in, but are part of it. The sets and environments that different characters go through, and the monsters they encounter, are all tied together and are often used as a reflection of parts of society. The Pale Man, above, can be used as a great example. In del Toro's own words, the Pale Man is a representation of institutional evil feeding on the helpless, which is echoed in the film as the monster ignores the wide array of food in front of it to instead attack the protagonist. Similarly, the Faun changes throughout the movie as well, though in a more benign way. Throughout the film, it ages backwards and though its appearance is discomforting, it is not a malicious creature.
This idea ties very heavily to one of del Toro's goals: to humanize monsters and use them as a mirror to society. According to del Toro himself, "[…] a glance at the monster should tell you its story and purpose and what it represents" but this must be coupled with the design and set piece elements. This aspect of his design works well when coupled with his desire to humanize the monsters he makes. This helps to somewhat ground the fantastical elements of his films, and can even subvert expectations when the real monster presented in a film isn't the strange and otherworldly creature but the familiar human figures that wants to cause harm. Overall, I am drawn to both the aesthetic design choices of the monsters and how they are used within the larger work of the film. From how the environment is shaped around them to the deeper meanings that they often hold, I am fascinated by these creature designs. Their whimsical nature and the dark tone del Toro's films often take can sometimes feel at odds, but never in conflict. His designs have come to prominence again with the release of his Netflix anthology series and his new Pinocchio adaptation, which incorporates the fantastical and unnerving elements that are present in his other monster designs. While I was doing research on del Toro, I came across the video below. It is very interesting if you want to learn more and is well worth a watch!
Sources:
Babrams. "'Guillermo Del Toro's Cabinet of Curiosities' Production Designer Tamara Deverell's Twisted World." Motion Picture Association, 16 Nov. 2022, www.motionpictures.org/2022/11/guillermo-del-toros-cabinet-of-curiosities-production-designer-tamara-deverells-twisted-world/.
"Guillermo Del Toro – Monsters and Magic." YouTube, YouTube, 1 Nov. 2018, www.youtube.com/watch?v=3HrabNyt630.
"Guillermo Del Toro." Wikipedia, Wikimedia Foundation, 2 Mar. 2023, en.wikipedia.org/wiki/Guillermo_del_Toro.
"Guillermo Del Toro: Humanising Monsters as a Mirror to Society." Hero, hero-magazine.com/article/183668/guillermo-del-toro-humanising-monsters-as-a-mirror-to-society.
Qu, Hans. "The Creature Design of Guillermo Del Toro." Film School Rejects, 18 June 2020, filmschoolrejects.com/the-creature-design-of-guillermo-del-toro/.
Toro, Guillermo del. "Guillermo Del Toro Twitter ." Twitter, Twitter, 2 Feb. 2017, twitter.com/RealGDT/status/827065272028766208.