For my upcycle aesthetic, I would like to focus on the pixel art aesthetic. I was drawn to this aesthetic as the object I want to upcycle in a computer keyboard, and I want to reuse the keys to compose a piece of art. The genre that most closely matches artwork rendered from many small squares is pixel art.
https://upload.wikimedia.org/wikipedia/commons/8/89/Pixel_Art_Cat_with_Zoom-in_Detail.png
https://www.chicaandjo.com/wp-content/uploads/2014/04/diy_colorful_computer_keyboard_02.jp
Pixel art is art drawn with pixels as the only building block (1). Some characteristics of it are that it is usually "low resolution," meaning that the art purposely omits detail. This is meant to evoke nostalgia from 8 and 16-bit computers and vintage video game consoles. Also, pixel art conventionally employs a limited color purpose to further mimic vintage computer art. Traditionally, pixel art is made using digital methods, however it can also be made in the analog world (3). A pixel can be represented by any small object. Some interesting examples of pixel art include artwork made from rubix cubes, shown below:
https://img.jakpost.net/c/2020/02/04/2020_02_04_85889_1580804070._large.jpg
Since I'm aiming to upcycle an old keyboard, I found that the pixel art aesthetic fits my goal very well. The individual keys are all square, meaning that they can represent pixels. Using the keys from my upcycled keyboard, I will create a piece of pixel art. Below are  a few inspirations I had for my project: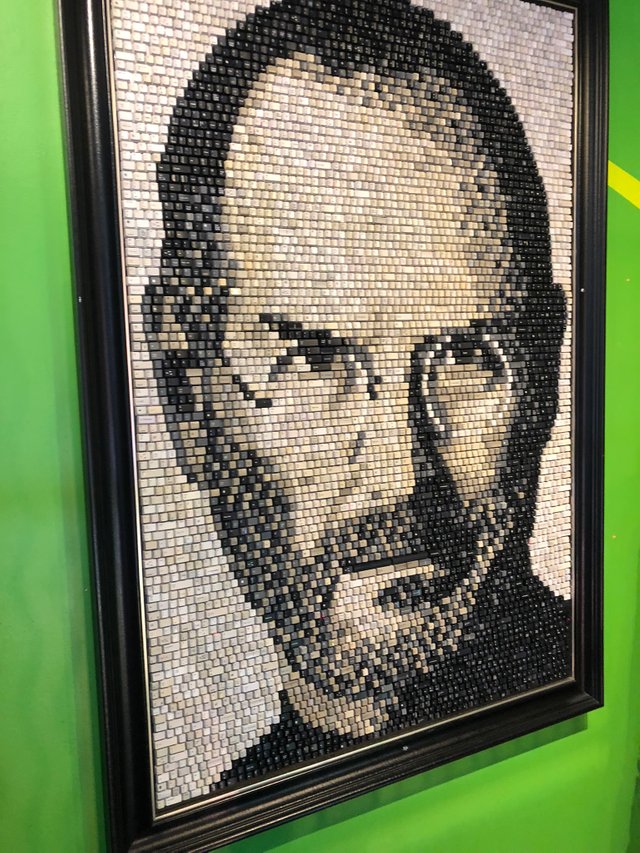 https://steemit.com/art/@sharkface/keyboard-art-a-tribute-to-steve-jobs
https://www.behance.net/gallery/40485315/Computer-keyboards-keys-wall-art
(1) What is Pixel Art? – Definition from Techopedia". 2022-05-26. Archived from the original on 26 May 2022. Retrieved 2022-09-10.
(2) Lee, Cindy (2021). "Chapter 14: Best Practices for Pixel Art". In Dillon, Roberto (ed.). The Digital Gaming Handbook (1st ed.). Boca Raton: CRC Press. pp. 275–286. ISBN 978-0-367-22384-7.