Kaiju, translated from Japanese as "strange beast" , is a film genre centered around giant monsters attacking Japanese metropolises.  The film credited as the first in the genre is also the most recognizable name: Godzilla.  Directed in 1954 by Ishiro Honda, Godzilla spawned a genre of monster films which gave rise to famous monsters such as Mothra, Dogora, King Ghidorah, Mechagodzilla, Ultraman, and countless others.
The first important aesthetic in Kaiju is the movie poster.  These posters generally feature an action shot of the movie's featured monster as well as some characters in peril.  The posters are covered in bright text of different fonts and colors.  The scale of the monsters is always stressed, as they are superimposed against city skylines, mountains, and castles.
The film's costumes are another key element of the Kaiju aesthetic.  The limited special effects capabilities of the 1950's had filmmakers relying heavily on costume artists and set designers to create a world on-screen which could be come across as believable while entertaining unbelievable circumstances.  Kaiju films were perhaps the most dependent on set-designers and costume artists.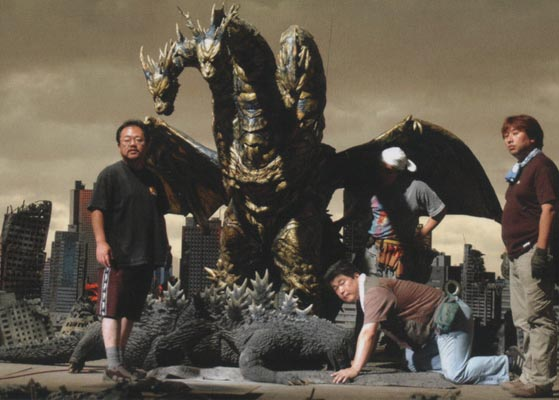 These monsters all have over-exaggerated features indicative of dangerous animals.  They are adorned with spiky spines, thick, deep scales, large fangs, multiple heads,  and often possess the ability of spit fire or shoot electricity.  They are meant to appear as an unstoppable force of nature in an era where human technology was beginning to become frighteningly powerful itself.
Sound effects were also an important elements of the aesthetic.  In an era where digital processing was impossibly, foley artists and sound engineers had to come up with ways to create roars for creatures who didn't exist.  Sound clips of lions and walruses were layered on top of each other, and mixed with the low ends of crashes to create massive cries.  These, in tandem with the movies' fight scenes were what kept the audience engaged in the films and coming back for more.
Kaiju style movies continue to be developed today.  In 2014, we saw the release of another Godzilla movie, and recent films like 2011's Super 8, 2008's Cloverfield, and 2013's Pacific Rim continue to draw heavily on Kaiju's established themes and aesthetics.