For my upcycle project, I wanted to work with fast food wrappers in some manner. Ultimately, I'm tentatively deciding on building a sculpture of some sort – I think this will be one of the striking ways to transform something which we consider useless and essentially trash into something that is visually pleasing or meaningful. Generally, I would consider this project falling under a more Kitsch or contemporary aesthetic; meaning will be derived from the transformation of the materials into something that either makes a statement or allows for some derivation of personal meaning. I think the juxtaposition in the material and the form is an interesting way to incorporate an otherwise 'single-use' material; since fast food is so common virtually everywhere you go, I thought it would be interesting to manipulate it in a way that's not commonly seen.
The theme of transforming 'garbage' into art is pretty common – the usage of mass produced goods and its incorporation into something more artistic or organic brings to mind the consumption of goods then discarding it that billions of people do everyday. There is an underlying theme of looking at consumerism another way present in these art pieces. It is from these that I have tried to draw inspiration for my own upcycling project. (Also shoutout to Brian for bringing up the usage of fast food wrappers and turning them into something beautiful). Below are some examples: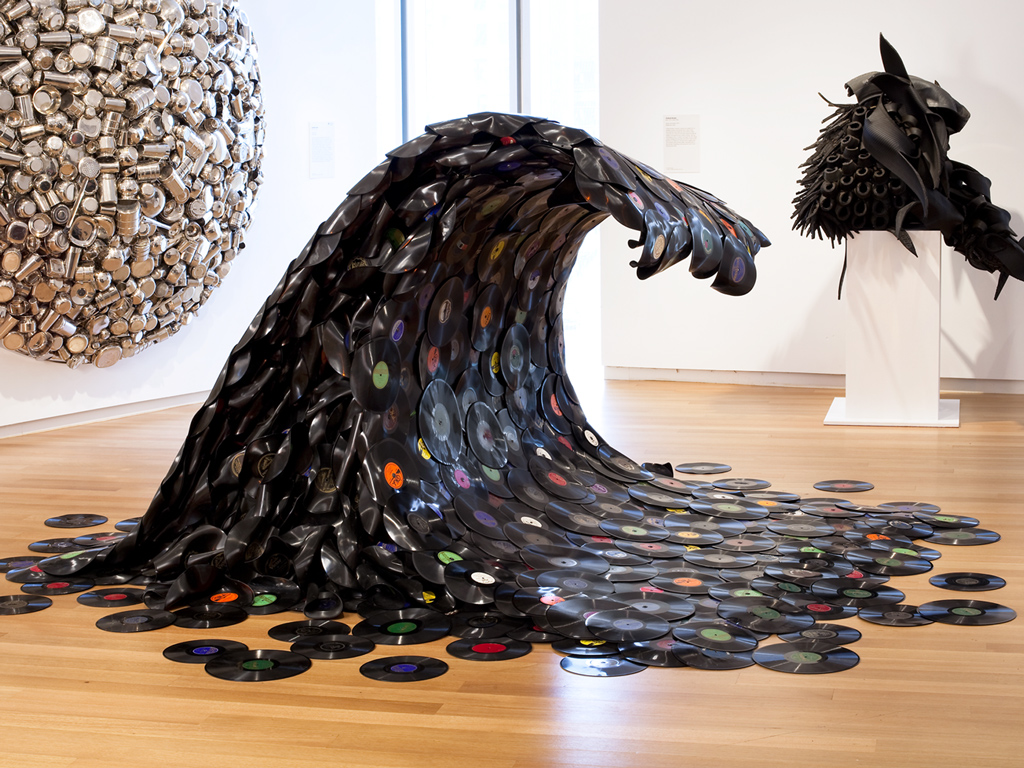 I plan on acquiring (clean and unused) wrappers from a variety of fast food restaurants and combine them in sculpture. There are a few differing forms I was considering: either a sculpture of something in nature, like a tree, a garden, or an animal (cow or bird?), or something more human, like an arm and hand, or a face. If any of you have any differing ideas, please let me know! In terms of structure, I was thinking of simply winding and glueing from a metal wire attached to a stand. Otherwise, a paper mache method might also work.